Jamie Potter, MS, LPC-Intern, EMDR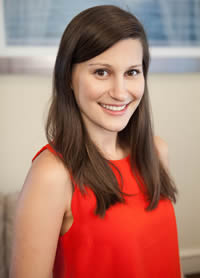 Email: jamie@positiveoutlookcounseling.com | Schedule an appointment
Jamie Potter attended Southern Methodist University where she earned her Bachelor's Degree in Psychology and Master's Degree in the Science of Counseling. Jamie went on to be trained in Eye Movement Desensitization Reprocessing (EMDR) therapy, an evidence based treatment aiding in the integration and processing of distressing memories.
During her Master's degree, Jamie facilitated group therapy at Homeward Bound Inc., working with adults in an inpatient addiction program. Afterwards, Jamie started her practicum at SMU's Center for Family Counseling, where she worked with individuals and couples struggling with grief, shame, and life transitions. After completing her practicum, Jamie started her internship at Carrolton Springs Psychiatric Hospital. She provided group counseling for adults in mental health and dual addiction programs, both through partial hospitalization and inpatient care. Jamie provided family and couples therapy sessions for those patients.
Jamie currently provides counseling at The Turning Point Rape Crisis Center, a non-profit offering services to survivors of sexual violence. Her work experience includes providing crisis intervention, individual counseling, and group counseling services to individuals who have experienced sexual violence, child abuse, domestic violence, shame, bullying, trauma, and dissociation. Jamie works with many clinical diagnoses including complex PTSD, borderline personality disorder, bipolar disorder, and dissociative disorders. During her time at The Turning Point, Jamie facilitates groups that focus on DBT exercises, boundaries, grounding, emotional regulation skills, mindfulness, and art therapy. When she is not providing individual or group counseling services, she answers the crisis phone line and provides hospital advocacy during forensic sexual assault exams.
As a counselor, Jamie integrates neuroscience research into her clinical treatment and provides a brain-based approach to addressing anxiety, depression, and trauma. To do this, Jamie uses Eye Movement Desensitization Reprocessing (EMDR) therapy and adaptive information processing to process and reintegrate those disturbing memories and remove the symptoms that they hold. Jamie believes in working as a team with her clients as they gain self-awareness, improve emotional regulation, and reach their counseling goals.
Call Positive Outlook Counseling Dallas today at 972-733-3988 and
begin your journey to a more positive and happier YOU.