Jasmine Gonzalez, MS, LPC-Intern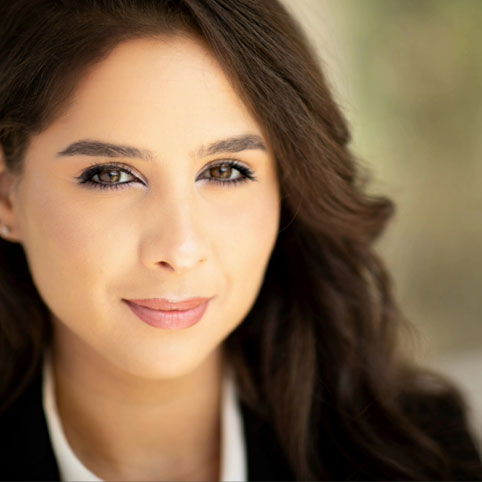 Email: jasmine@positiveoutlookcounseling.com | Request an Appointment
Jasmine Gonzalez aims to provide a non-judgmental and compassionate atmosphere in which you can safely explore thoughts, feelings, beliefs, or behaviors that may be keeping you stuck. Jasmine believes every client has the necessary expertise and the resources within themselves to deal with the current problems that bring them into therapy.
Jasmine's areas of specialization include a broad spectrum of emotional, behavioral, and psychological issues to include Anxiety, Depression, Trauma/PTSD, Veterans Issues, Relationship Issues, Parenting Issues, Grief, and Stress and Lifestyle Management. She has a unique base of experience counseling children, adolescents, and adults. She is certified in Trauma Informed Yoga (TIYT) as an alternative and evidenced based clinical intervention that can be utilized to help regulate physical and emotional responses to unmanaged stress. Jasmine also has experience in working with individuals from various cultural backgrounds as well as military service members and Veterans. These experiences have allowed her to gain a deep understanding and profound empathy for the human experience and a great respect for the multitude of difficulties that people are facing.
Jasmine is a Licensed Professional Counselor Intern. She holds a Master of Science degree in Clinical Mental Health Counseling and she is a National Certified Counselor. In addition, Jasmine is currently pursuing her doctoral studies. She is bilingual in Spanish and a Veteran of the United States Army. Jasmine holds various meritorious service awards including the Army Commendation Medal awarded to her by the Secretary of the Army for three consecutive years in a row. It was during her military service that ultimately inspired her to join the field of counseling and gain a vast appreciation for offering a holistic, integrative approach to client-centered therapy.
In her spare time Jasmine Gonzalez actively participates in professional counseling organizations, volunteering and advocating for military mental health care, and serving as a keynote speaker for the Chi Sigma Iota International Counseling Honor Society. Jasmine is a member of a variety of civic and professional organizations to remain up to date with the most effective techniques for therapy in order to provide an integrative approach that is most beneficial and unique to you, the client.
Call Positive Outlook Counseling Dallas today at 972-733-3988 and
begin your journey to a more positive and happier YOU.