Ann Marie Hagy, MS, LPC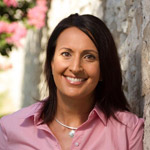 Email annmarie@positiveoutlookcounseling.com | Schedule an appointment
Supervised by Marci B. Stiles, MA, LPC-S
Ann Marie considers it a privilege to work with you as a client. She knows life comes with it's up and downs along with the occasional need for guidance and support to navigate days in choppy waters. Ann Marie prefers an integrated approach to your counseling needs. Her work incorporates using the past and present components of an individual's life then pairing it with new skills and information to allow the client choice for options about their future. Ann Marie became a counselor because she believes in the power of the counseling process and revels in the joy of the changes it has made in peoples' lives for good.
Ann Marie holds a Master of Science in Counseling and Bachelor of Science in Child Development and Family Relations from Oklahoma State University. She is a Licensed Professional Counselor (LPC) working under the supervision of Marci B. Stiles, MA, LPC-S. She is an instructor for the First Time Offender Program and has completed the ASIST workshop on suicide first aid.
Time well-spent for Ann Marie is outdoors or boating at the lake with her husband and three dogs.
Call Positive Outlook Counseling Dallas today at 972-733-3988 and
begin your journey to a more positive and happier YOU.